The Flowers of the Dolomites: My Top-Twelve All-time Favourite!




---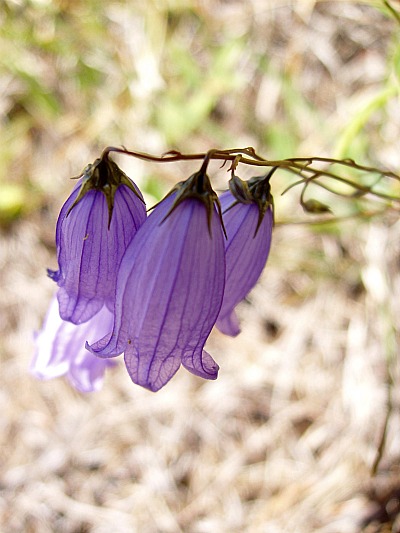 ---
The Flowers of the Dolomites are among the most interesting in the entire Alps. They grow in an environment which is unique for the beauty of its Alpine flora – no doubt about that. It is virtually impossible to list the variety and wealth of all the beautiful flowers that one can admire in these magnificent mountains – a real haven for the plant lover (in the opening image above, a close-up of the delicate drooping blossoms of Campanula caespitosa).
For this reason, I have devised a list of the "Twelve Best Flowers of the Dolomites". As with any list, it can only be subjective – so it has no pretense of being neither objective nor exhaustive, but hopefully it will serve as an orientation tool based on personal experience.
With that goal in mind, I have included in this list a blend of "must see flowers" (those plants that are somehow emblematic of the Alpine flora) and some rarities.
An additional criteria has been to choose representatives for plant families that are particularly relevant for the flora of the Alps, with the locations where some of them grow.
I have also decided to include some others plants which I am fond of, either because of a story connected with them or a dear memory.
Lastly, I have chosen some flowers simply for their sheer beauty (such as is the case for the Queen of the Alps, Eryngium alpinum, of which I am proposing an image below "out of the list", as it is such a meaningful species for this area – starting with its common name). So, here is the list!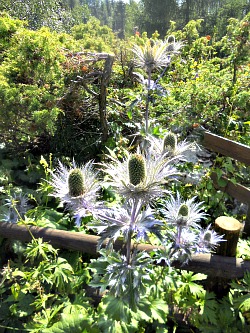 1) Edelweiss (Leontopodium alpinum). Somehow, this flower is the emblem of the Alps, so I felt I really could not leave it out! However, the Edelweiss is in fact no Alpine plant at all, as it originally came from the steppes of Asia, and only later made its home here.
But believe it or not, because of the many legends and stories associated with it being "a token of love" – with young men risking their lives on dangerous ledges to pick up a bunch for their promised ones – at one point this flower was so heavily collected that it nearly became extinct.
Luckily enough, thanks to a better environmental education – and the presence of many protected areas – now it is not in danger any more; still, this doesn't mean that it can be picked up again!
This plant has narrow grey, densely felted leaves; at the end of the stem there is the inflorescence, which consists of a cluster of flower heads surrounded by pointed lanceolate bracts – also densely felted, and often mistaken for flowers (see image below).
The best places where to spot the Edelweiss are exposed rock ledges and slopes, but sometimes it appears even in the middle of open fields – as long as the soil is rocky underneath – quite high up in altitude.
Usually found from about 1,500 metres, this plant can easily reach 3,700 m: so it really climbs as high as it can get in the Dolomites, where the tallest peaks are around 3,300 m.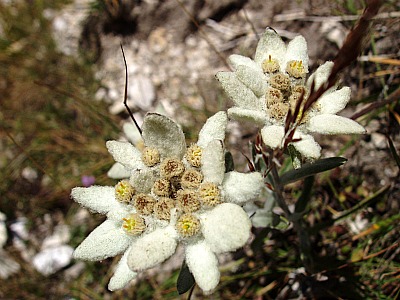 2) Primula minima. This is the representative of the Primulaceae (Primrose) family that I have chosen, as it reminds me of a beautiful experience during a walk around the Tre Cime with a group I was leading.
It was at a time of the year – early September – when I was not waiting for a surprise, as most of the beautiful blossoms of the Dolomites are usually long gone by then.
But this story reminds me that there is always an exception: somebody from the group called my attention to examine a beautiful, tiny pink blossom they had spotted. We took some time to identify it, and with the help of a few books, we came to the conclusion that it was a specimen of Primula minima, which is not an endangered plant, but quite a rare sight nonetheless. As you can see from the picture below, the comparison with the coin shows that it is quite a small flower – minima meaning in fact lesser.
In any event, this story is indicative of the rewards that can be reaped when walking together in this magnificent setting, where one has to be on the constant lookout!
Primulaceae, by the way, make up for quite a big family, comprising 430 species and several genera, but only 34 primroses are found in the wild in Europe.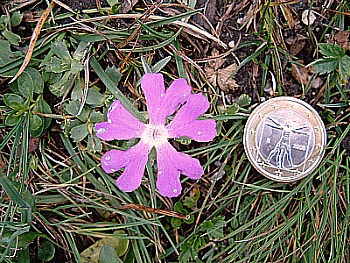 3) Silvery Cranesbill (Geranium argenteum). I have chosen this beautiful, delicate flower as it is both a rarity (and for that reason adopted as symbol of the Cansiglio Botanic Garden) but also a beautiful sight, when spotted in nature.
It is a rare and protected member of the Geraniaceae family that can be admired, for instance, along the path to Rifugio Semenza (in the Alpago region, where the picture below was taken) at the height of summer.
There's usually quite a lot of them in blossom even as late as August – but if you don't feel like venturing on the trek, you can always admire it in the gentle setting of the Cansiglio Botanic Garden itself!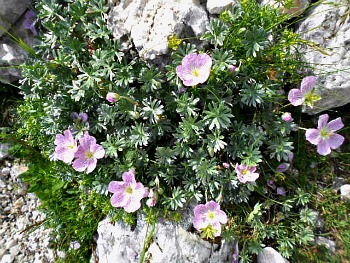 4) Mezereon (Daphne mezereum; see image below). I love this plant not so much for its rarity, but rather for the colour and scent of its flowers, and for its connection with many fond memories – which is, I guess, as valid a reason for loving a plant as it can be its rarity.
This small shrub is quite ubiquitous, but numerous only in selected locations – usually in fresh, sub-alpine woodland habitats at relatively low altitude, even if it can occasionally reach 1,500 metres.
So, here I will unveil a secret: a location where the Mezereon can be spotted in high numbers is the lower section of the Valle d'Oten, just outside Calalzo di Cadore.
At one point, around mid-April (but times vary slightly from year to year), when spring is coming, these shrubs – with their many blossoms – bring both their rich, warm purple colour and a wave of scent to an otherwise still brown and drab valley.
They are accompanied in their symphony by small Crocuses that dot the surrounding fields and by the more metallic purple of Liverwort (Hepatica nobilis).
As a note of curiosity, it could be mentioned that in certain regions of the Alps (such as Bavaria) the flowers of Daphne mezereum are used to produce a particular honey, but not in the Dolomites.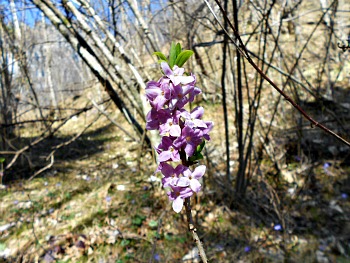 5) Gentians. I have trouble choosing one gentian, as Gentianaceae is such an emblematic family for the Alpine flora – maybe even its most representative!
So perhaps I should make an exception, and keep this broad and open as a big family of around 450 members. This allows me to say something about the incredible variety that can be found within this quintessentially Alpine genus.
To begin with, one usually thinks of Gentians as blue – and blue indeed they are by 'default', so to speak, but this is by no means their only colour. Quite the opposite, they come in a range of several shapes and colours.
Among the 'classic' blue gentians, then, one has to mention the stemless big trumpets of G. acaulis, G. clusii and G. kochiana, counterbalanced by the smaller electric blue of G. bavarica, G. nivalis and G. verna (below, the first image portrays G. acaulis, as seen in the Rock Garden at Wisley RHS Garden, England, while in the second picture is G. kochiana, in the natural setting of the Vette Feltrine).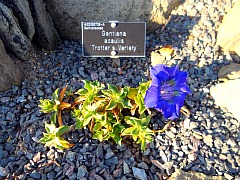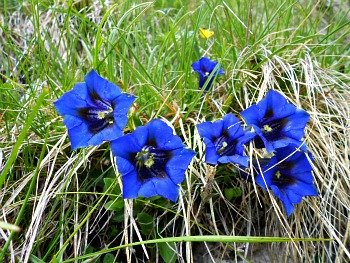 The former are all low – and sometimes mat-forming – plants that can be found up to 3,000 m of altitude. But at the other end of the spectrum there are also the tall spikes of G. lutea and G. symphandra (see picture below), covered in yellow blossoms at the height of summer.
Gentians have been known since time immemorial for their bitter compounds, and are still used today to produce the Grappa di Genziana – one of the most widely known of Alpine spirits.
As a matter of fact, Gentians reputedly derive their name from King Gentius of Illyria, who – legend has it – prepared concoctions out of the leaves and roots of this plant (allegedly, from G. lutea).
To finish, are worth mentioning also the spectacular purple clusters of G. pannonica and G. purpurea, while G. punctata takes the best of both these unusual characteristics: yellow flowers with dark purple blotches.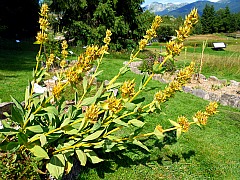 6) Alpine Snowbell (Soldanella alpina). Another member of the Primulaceae (Primrose) family, this flower appears with its tiny, delicate nodding heads at snow-melt.
Alpine Snowbell blossoms can be seen from yhe valley floors up to 2,700 m, albeit at different times of the year depending on the altitude. It's one of those plants that animate the scenery with its light purple (or sometimes white) flowers (see picture below), enlivening otherwise barren fields at the end of their winter rest, possibly after many months under the snow.
So it is usually a very welcome sight, and a herald of spring in this part of the world (which could be as late as May – or even June, at higher altitudes).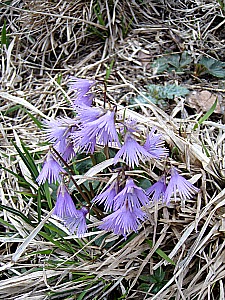 Soldanella minima has white flowers, and it is pictured below in the Valle di Lamen, in the area of the Vette Feltrine.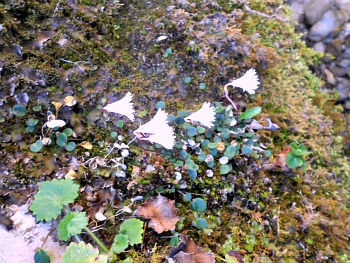 7) Black Vanilla Orchid (Nigritella nigra). A rare orchid – and a typically Alpine one. The main attraction of this tiny flower lies in its colour, as the range goes – in various subspecies – from cornelian red (subsp. rubra and subsp. corneliana) to a dark, almost blackish sanguine red (subsp. nigra), which is quite a rare hue within the floral kingdom (see image below).
It is also worth remembering that this is a member of the Orchidaceae family – a reminder of the fact that orchids are by no means only tropical plants … but sometimes actually grow in very cold climates, as indeed here: this one, for example, can be found up to 2,800 m of altitude.
Members of a huge family of about 28,000 species, orchids are divided into terrestrial and epiphyte (living on trees); those of cold climates (temperate orchids) are all terrestrial, and to give an idea of their worldwide distribution suffice it to say that they are found even as far north as Siberia and Greenland!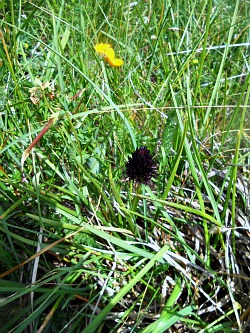 8) Campanula morettiana. As a representative of the big Campanulaceae (Bellflower) family – with about 300 species – I have chosen this one, as it is the symbol of the Dolomiti Bellunesi National Park, and it has therefore a particular connection with this area (it is portrayed in the first picture below).
This plant is an endemic of the Dolomites, and it is quite abundant within the territory of the Park; with cushions of bright purple flowers that come into bloom mid-July to mid-August, it can be found on damp rock ledges above an altitude of 1,000 m, especially on calcareous rock. It is protected at EU level.
It is worth mentioning that there are also other very interesting Bellflowers to be admired in the region; C. thyrsoides, for instance, is unique in that it has a striking spike of yellow flowers (see the second picture below, taken in the Monte Faverghera Botanic Garden – and also notice the contrast), while C. zoysii displays flowers with a characteristic crimped constriction at the mouth.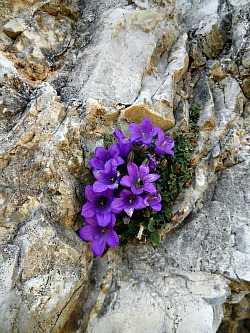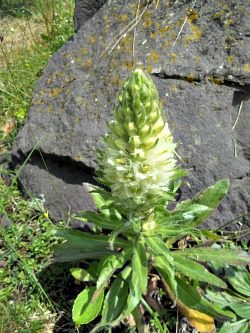 9) Larkspur (Delphinum dubium). A particularly beautiful and elegant blossom, I have selected this flower as an ambassador for the flora of the Vette Feltrine – a real haven for Alpine rarities. In fact, so important is this area for its floral variety that it has been designated a "locus classicus" for a few species (which means that they were first discovered here).
Several plants that today are endangered and inserted in either the National or Regional Red Lists can be admired in this unique location; among these are Aconitum anthora, Cortusa matthioli, Alyssum ovirense, Thlaspi minimum and Rhizobotria alpina.
Therefore, a trip to the Vette Feltrine from mid-June onwards will repay you with the sight of many Alpine rare beauties, all grouped together at once (below, an image of D. dubium, also taken in the Monte Faverghera Botanic Garden).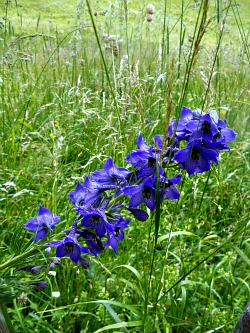 10) Saxifrages. Another important mainstay of typically Alpine flowers, these plants are part of the numerous Saxifragaceae family, divided up into further sections and sub-sections (section Saxifraga has about 70 species, amongst which is S. burserana, growing abundantly in the Dolomites).
Their name says it all: etymologically, in Latin Saxifraga literally means "breaking the rock" – a clear reference to the preferred habit of growth of these fascinating plants.
Saxifrages come in a myriad of sizes and forms, and the maximum variation is found in the foliage; a typical – albeit not unique – feature of many species growing in the Dolomites is their capacity to absorb limestone from the calcareous rock they grow attached to, which is then exuded through lime-secreting pores, leaving incrustations of calcareous deposits along the leaf margins. This characteristic phenomenon becomes more pronounced in low humidity and with warm weather conditions (seen for instance a detailed image below, which portrays S. crustata).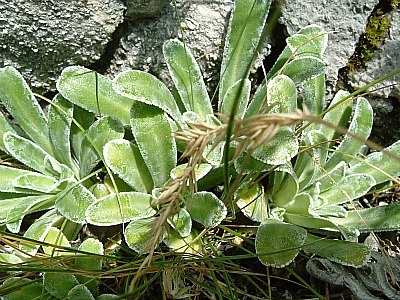 Saxifrages are quite ubiquitous, so they're not very difficult to find, even though in some places they will be more frequent than in others. They especially love high, exposed ledges that experience extreme climatic conditions both in winter and in summer.
A good place to spot them – with a significant number of different species – are the upper reaches of Monte Rite, where at least five of them mingle, amongst which are S. paniculata, S. cochlearis and S. aizoides (below, S. caesia – Blue Saxifrage – is seen in its typical habit of growth on the Vette Feltrine).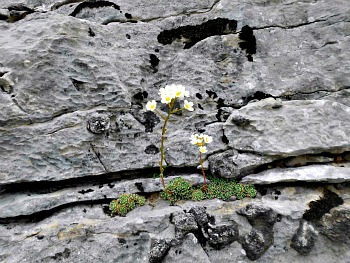 11) Pulsatilla (Pasque Flower; Fleur de Pâques). As there are 30 or so species of this beautiful Alpine plant, varying considerably across the range – particularly in hairiness and colour of the petals – I decided to keep this description open to the whole genus.
Pasque Flowers are closely related to anemones, but they are more specifically Alpine flowers, distinguished from their cousins by the long feathery styles attached to each seed.
Pulsatilla halleri emerges with a dense, soft white fur; the first buds open before the leaves have developed with stout, light purple blossoms facing the sky – and there is also an Italian variety (var. segusiana) that comes in a much deeper purple hue.
All in all, there is quite a range of colours to this flower: Pulsatilla vernalis, also known as "Lady of the snows", has elegant white flowers, while P. alpina has bluish-purple blossoms (but there is also a variant – subsp. apiifolia – with unusual, distinct sulphur-yellow blooms), to finish with the carmine red-flowered form of P. vulgaris.
12) Sempervivum dolomiticum. As I opened this list with a quintessentially Alpine flower, I decided I would close it with one that belongs specifically to the Dolomites – starting from its very name.
The Sempervivum (Houseleeks) are interesting plants, with neat rosettes that can survive in the most unlikely of places, gradually spreading by producing stolons (creeping aerial roots). It is also worth remembering that Sempervivum in Latin literally means "always alive".
There are about 50 species of houseleeks; the one in question is an endemic to the Dolomites, growing in arid and sunny locations mostly in rock crevices, and displaying a proud spike of bright pink flowers in the middle of summer (see picture below, where S. dolomiticum is portrayed within the setting of the Cansiglio Botanic Garden).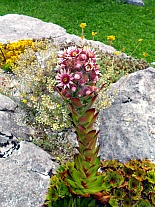 So, here ends my piece of advice on the Twelve Best Flowers of the Dolomites: I hope that this information will assist you in making the most of a holiday in the Dolomites, and perhaps ... inspire you to join me in one of my Alpine Tours!
If you would like to have any further information – on a more technical note – on how Alpine plants cope in harsh mountain habitats, don't forget to check out also the page dedicated to Alpine flora.
Return from Flowers of the Dolomites to Dolomites
Return from Flowers of the Dolomites to Italy-Tours-in-Nature