Top 10 Dolomites: Ten Things Not to Miss in the Dolomites!




---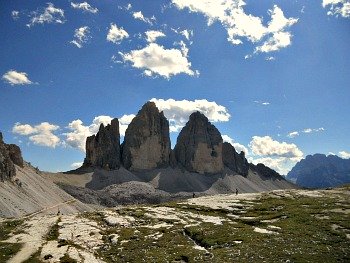 ---












Top 10 Dolomites is designed to assist you with those all-important questions:

What to do (or not to do) – in the Dolomites?
– and –
When is the best time to go to the Dolomites?
What to do – or not to do – when you go to an area that you don't know very well (and where perhaps you've been wanting to go for a long time) is always a problem, especially when there's little time.
Here is a comprehensive list of advice on how to make the best use of your time among these spectacular mountains.
I have been roaming the territory of the Dolomites since I was a little boy, so I can say to know it quite well – even though the area is so vast that I am obviously more familiar with some parts of it rather than others.
Of course, the whole region is magnificent – but it goes without saying that certain things are particularly breathtaking, and would not have to be missed when visiting the area.
The problem is, as always, that the most interesting things also tend to be the most visited ones – and especially so in a tourist area like the Dolomites, which, frankly, can get quite crowded at times.
In terms of how this page is structured, I would like to present you with a blend of absolute must-see places (such as the Tre Cime, portrayed in the image above, which have become the almost undisputed symbol of the region; or the Civetta, pictured below at dusk, when the phenomenon of the enrosadira lits up the mountain) and of other locations which I think are not so well known and valued enough, but would really deserve to be discovered for good reasons.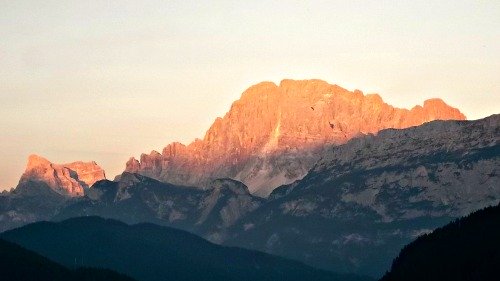 I will devise the following section thematically with my best pieces of advice – but first of all, a practical tip:
1) When to go. If you can help it, avoid the high season. Of course, everybody wants to be in the Dolomites in the summer… but that in itself does not guarantee to experience these mountains at their best.
Yes, crowds can be a problem, but these can also be dodged; apart from that, though, often the summer (and August in particular) can be stormy and wet – especially so in the highest part of the range.
Mind you, the storms here are fantastic… they can be so majestic in these mountains, and they certainly give you a real sense of the forces of Nature at play! But I understand that when you have little time on your hands you don't come here for the rain, and to spend your days tucked away inside a mountain hut, however beautiful that might be...
So, if you can, plan your trip at another time – ideally, either late spring or early autumn. The scond half of June and the first half of September, in my view, are the periods in which to savour the Dolomites at their best, both in terms of weather and of feeling that you have the place almost to yourself. The rest of June and September (and sometimes even of October) are also often fine; the only thing you will need to be wary of is that many mountain huts may still (or already) be closed.
But there are jewels not to be missed in the other seasons too: in early spring, for instance, crocuses and Alpine snowdrops dot the fields in the melting snow, and the scented bushes of Daphne come into bloom.
In late autumn – October and early November – clear days often abound, and the woods are ablaze with the golden hues of larches and beeches, perhaps even with the backdrop of freshly fallen snow-capped peaks.
Then again comes the beautiful winter, when the snow finally shrouds everything in silence, and the mountains gloriously shine in a thin, crisp air that carries with it the scent of burnt wood.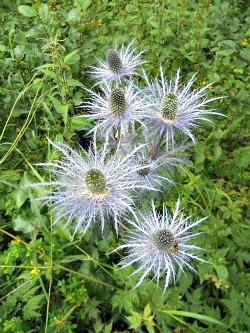 2) Alpine flora. If it is Alpine flowers and blossoms that you're after, the best time to come is definitely from the second half of June to the first half of July.
In fact, the whole summer offers quite a lot in terms of flora – especially given the large variations in altitude, which mean that different types of habitats will display their blossoms at varying times.
So, all in all, one could say that from late April all the way to September there is something worthwhile to see in the way of flowers… which is of course true. But it is also a fact that the height of the flowering season is usually concentrated in the mid-summer month suggested above – roughly from late June to mid-July.
The best Alpine botanical gardens to visit are, in my view, Monte Faverghera and the Cansiglio (where the beautiful image of Eryngium alpinum – the "Queen of the Alps", pictured above – was taken). Both gardens are quite close to Belluno, and can be easily reached if staying in town with a short trip; otherwise on Monte Bondone, near Trento, it is worth visiting the Alpine Botanic Garden of the Viotte.
The Vette Feltrine, close to Feltre, are perhaps the best bet if you want to admire a huge number of rarities in their natural habitat (below, an abundant blossoming of Primula auricula is portrayed on the way to Rifugio Dal Piaz, in the area of the Vette Feltrine).
This is also true for Monte Serva (2,133 m) near Belluno – but, to a lesser extent, that would apply also to any major high peak of the Dolomites.
My favourite places for admiring the beauty of the Alpine flora are Monte Rite (2,183 m; near the village of Cibiana, in Cadore) and the Tre Cime di Lavaredo/Drei Zinnen (2,999 m), north of Auronzo, but easily accessible also from Dobbiaco/Toblach.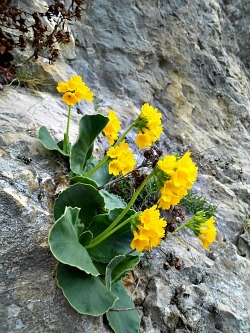 3) Heights. Can you come to the Dolomites and not "get high"? Absolutely not! So, starting from the premise that almost anywhere above 2,000 metres will reward you with breathtaking views, here are my 'top' suggestions.
Rifugio Lorenzi (by Monte Cristallo; 2,932 m); Sass Pordoi (2,950 m) by the homonymous pass, and Punta Rocca (3,269 m), nearly at the summit of the Marmolada, are all locations that hover around or just above 3,000 m, and can be reached with a cable car: when you're there, you can really say you're on the roof of the world – at least as far as the Dolomites are concerned!
The two latter locations probably command the most astounding views over the region in absolute – but a word of warning: they can both get extremely busy, and especially so in the summer months.
If you want to enjoy altitude and be a bit less pressured by the crowds, there are excellent alternatives: head for example for an ascent to the Lagazuoi (which is pictured below from some distance away), not far from Cortina – still at the respectable height of 2,752 m.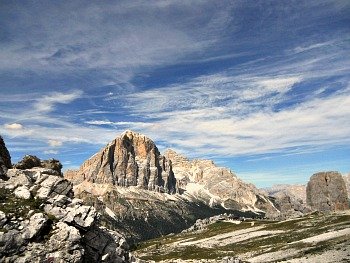 4) Walks. As you can imagine, the choice here is absolutely endless.
The region is zig-zagged by 8 long distance trails, known in Italian as "Alte Vie" – you could call them Alpine Highways, except they're not for cars!
They all cross remarkable areas, especially in their highest sections, but some of them do require specialist equipment, as some parts are 'vie ferrate' – that is, literally, 'iron ways', meaning that you will literally have to attach yourself to iron ropes fixed on the mountain walls. Of course, you do need some serious hiking experience (and the proper equipment) before venturing on to these.
An "in-between" option is the Sentiero Geologico Astaldi (Astaldi Geological Trail), which is situated at the foot of the Tofana and can be accessed from the Rifugio Angelo Dibona (2,083 m), located just off the National road (Great Dolomite Road) along the stretch from Cortina to Passo Falzarego.
This is a very interesting itinerary situated at the foot of the Tofane (3,244 m), almost suspended on a narrow ledge among the most incredible multicoloured rocks. This trail displays in fact some of the characteristics of a 'via ferrata' (fixed rope route) but it is not quite as difficult, as it can be approached even without equipment (although you still must pay extra care).
So, even though in my opinion this trail is an absolute highlight within the context of the Dolomites – and a rope fixed to the rock wall makes the experience quite safe – let me make it clear once and for all: despite not being, strictly speaking, a via ferrata (and therefore technical equipment not being compulsory) still great care should be taken when walking along the Astaldi Geological Trail, in both directions; also, it is not advised to people with little hiking experience or who are afraid of heights (see below a picture of the Sentiero Geologico Astaldi, deeply carved within the Tofane's rock walls; the crimson-red coloration is due to the presence of the Raibl layers; Strati di Raibl in Italian. For more detailed information on this trail, please also refer to the Tofane page).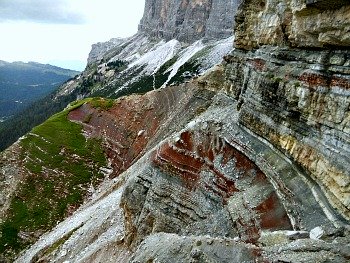 I really feel I could not have left that one out – but if you feel that it was too much for you, not to worry. There is plenty to do on a more approachable note too; for instance, my absolute favourite walk in that respect is the circuit around the Tre Cime di Lavaredo/Drei Zinnen (2,999 m).
This is also a highly rewarding trek, demanding but not strenuous: with a bit of training (do not attempt it on the first day there!), the usual care and a little effort it is perfectly suited to all abilities, and it is accompanied by great views all the way, from beginning to end (see the picture below, taken in the rocky upland wastes of the Tre Cime, towards Rifugio Locatelli).
Then there are also the "absolutely easy" options – such as the beautiful, long haul from Calalzo to the Pile waterfall (Cascata delle Pile), among impressive Dolomite rock formations that can safely be admired from a distance. The path that leads there, although easy to walk, is cut between the rocky bastions of the Antelao on one side and of the Marmarole on the other.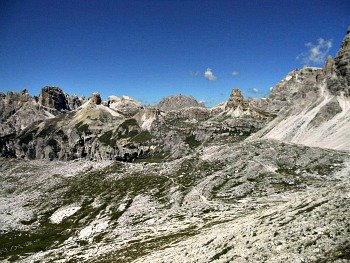 5) Towns. Here also there is quite a wide selection, and the choice very much depends on what you're after.
If you prefer to be in altitude, then of course you're likely to end up in a winter sports resort like Cortina, Arabba, Ortisei/St. Ulrich, Corvara or Canazei.
Nothing wrong with that, but if you're up for something more autenthic, however, there are lots of little villages perched up high in altitude, where you're very unlikely to be disturbed by mass-tourism, and where original, often inventive forms of alternative accommodation have been devised – such as in Sauris, for example (read below for this).
But Zoppé di Cadore and Selva di Cadore, Colle Santa Lucia (in the picture below) and the highest reaches of Comelico and Livinallongo would also equally give you the experience of "living high" without having to pay the toll of overcrowding and high prices.
Having said that, I love Cortina – out of season, that is. In May, for example, when it's absolutely empty but the fields are brimming with flowers; or again in October, when there's hardly a tourist around while the larches and maples are turning into a stunning golden colour.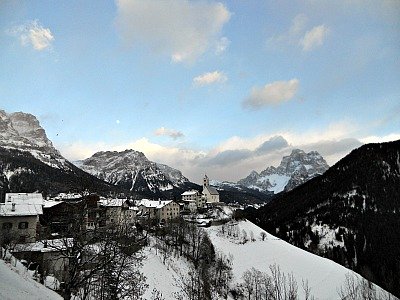 6) Art. You will be amazed to discover how many art gems are hidden within the Dolomites!
The three main cities of Belluno (first picture below), Trento and Bolzano/Bozen all offer, to different degrees, very interesting historical parts.
But scattered around there is also a plethora of smaller towns, like Feltre, Rovereto, Bressanone/Brixen, Brunico/Bruneck – all endowed with a well-preserved heritage which presents multiple attractions such as museums, churches and characteristic sights.
Both South Tyrol and Trentino are famous for their castles – less so other areas, where there are always, though, a good number of old monuments (such as isolated churches) worth a detour.
In the province of Belluno, for example, are to be found the northernmost examples of "Venetian villas" – buildings like Palazzo Crotta in Agordo or Villa Poli-De Pol in San Pietro di Cadore.
Particularly close to my heart is the town of Pieve di Cadore … which, despite being little known, has a charme all of its own, and quite a lot to offer to the visitor.
As the birthplace of the Great Master painter Titian, everything here is infused with his presence – at least in spirit: the main square, his house (see the second picture below), the church (where one of his paintings still hangs ... ). An historical café, the Gran Caffé Tiziano, is dedicated to him too – a wonderful place to sit outside on a sunny day, with a good espresso, to watch the world go by ... .
Other interesting small towns include Cavalese, Fiera di Primiero and Cles in Trentino and  San Candido/Innichen in South Tyrol – again, just to name but a few.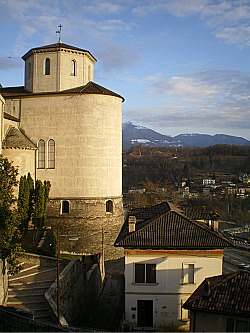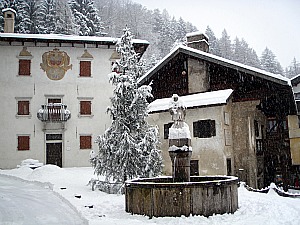 7) Vernacular architecture. Once more, the choice here is really wide – but in many cases you will have to be ready to travel up twisting little lanes for several kilometres. This is certainly the case for Sauris – in my opinion, the most beautifully preserved cluster of old wooden houses in the Dolomites, now turned into an "Albergo Diffuso": literally, a 'spread-out hotel', where you can live in one of the old houses for a while and share in the life of the local community.
But there are so many other examples; in the Zoldo area, for instance, there is Fornesighe; in the Agordino, Falcade (see picture below) and Gosaldo; further north, Sappada, Costalta in Comelico – and even Cortina: all of them have their fair share of old vernacular houses, mostly built in wood.
It is South Tyrol, though – thanks to its peculiar history and its German cultural roots – that has retained the maximum number of old wooden houses, known there as 'masi' ('Höfe' in German), and it would be impossible to list here all the villages and hamlets where to find them. In many cases, these houses are fairly isolated, but amazingly most of them are also still lived in.
Suffice it to say that in every valley the architecture will have its own peculiar declination; as a good introduction, you may then want to visit the provincial Ethnographic Museum at Teodone, near Brunico/Bruneck, with many reconstructed original old wooden buildings that you can enter and explore.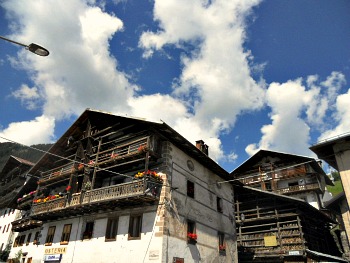 8) Food. Well, it is not really the primary intent of this site to deal with food – but for once… why not?
Especially in a country like Italy (even if here we are nearly at the border with Austria) – where food is almost an extension of the landscape, and also speaks the language of cultural identity – it is hard not to mention it.
And in my tours too I always take this aspect carefully into account, as an integral part of the way in which one gets to know a given territory.
The dish I love most in the Dolomites are definitely the 'casunzei': a small folded pasta vaguely reminiscent of ravioli, with either a 'white' (potatoes and herbs) or 'red' (beetroot) filling, simply sprinkled with melted butter and poppy seeds.
Another first-course-staple of the Dolomites, with different local variants, are the 'canederli' in Trentino (also known as 'Knödel' in South Tyrol): big, round dumplings of bread rich in speck (a local dry-smoked ham) and herbs, usually served in a broth.
A hearty meal in some parts of eastern Cadore and in the Dolomiti Friulane is the 'frico' – a sort of rich omelette with cheese, ham or mushrooms, served sometimes also with polenta ... and good to keep you going after a steep walk to a Rifugio (mountain hut).
These are just a few of the possible examples, but the area is so rich – especially in cheeses and dry-cured meats – that it would be impossible to mention here every local delicacy. You'll just have to come and find out for yourself!
As for the shops, just one address, and that is all: the Cooperativa di Cortina – even if you don't intend to buy anything, that's the Harrods of the Dolomites: a must see!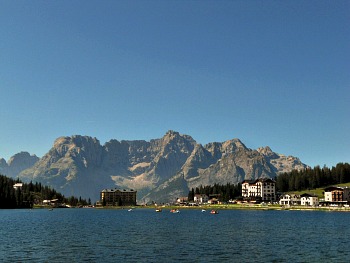 9) Sights. What are the most beautiful sights in the Dolomites? Again, there are so many that I have trouble choosing.
This is why you have to come on a tour: to find out! However, I would definitely include, amongst them, the Lakes of Braies and Misurina (pictured above) – but the latter strictly out of season! 
You would really have to love crowds to come up here in the middle of August, and the same goes for the Tre Cime di Lavaredo/Drei Zinnen, of all places – as it would be true for most other locations that can be reached too easily.
But this is the quintessential landscape of the Dolomites: all around you are awe-inspiring peaks with magical shapes, towering above green pastures and dark conifer woods.
The Conca di Cortina (a. k. a. Ampezzo basin, encircling the town of Cortina) is another view not to be missed – but again best enjoyed out of season (see an image of it below).
From there, it would only be natural to follow the strip of the Great Dolomite Road (Grande Strada delle Dolomiti) all the way to Bolzano/Bozen, which would take you through the most elevated passes of the region (beware of winter closures) and – roughly mid-way – give you also the chance to explore the area around the Sella group.
Peaking at 3,152 m, this is perhaps the most pivotal mountain of the Dolomites, right in the middle of the region and at the heart of Ladinia. It is also surrounded by four magnificent high-altitude passes, and offering infinite possibilities for trekking and hiking.
Along this magnificent road – as it approaches its last stretch before the final descent into Bolzano/Bozen – is also found the beautiful Lago di Carezza (Carezza lake; Karersee), location of so many legends of the Dolomites.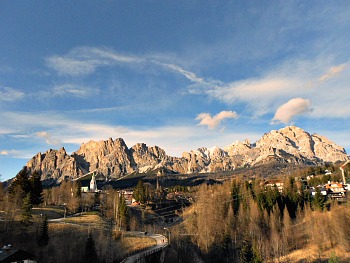 10) Colours. Let's finish with a feast. What gives the Dolomites their uniqueness (and their name)? The rock, that's right!
But what makes Dolomite rock so different from all the other rock types in the Alps and elsewhere? Its colour: white.
And what's so special about it? Well… the fact that it is not just 'white', as it responds to the changing light of day, and even of night. At dawn, when ignited by the first rays of the rising sun, the Dolomites can be of a vivid orange, only to take on again a purple tinge – fading to pink – at dusk (below, a surreal image of Croda La Varella at sunset).
In a stormy sky, they can be hit by dramatic sunbeams as if by divine touch, and in the moonlight they display a ghostly pale glow, seemingly radiating from the inside of the mountains.
The Ladin language – still spoken in the region's heartland, Ladinia – has found a word for this phenomenon, which has no equivalents neither in Italian nor in German: 'enrosadira' – literally, 'becoming pink'.
This is an almost alchemical reference to the surreal colour palette displayed by these mountains, especially at sunrise and sunset.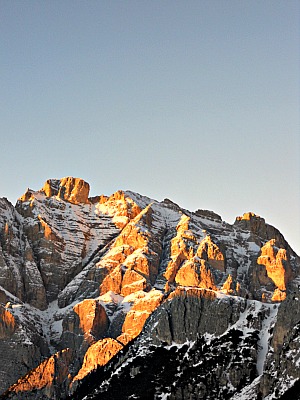 ... "These Are a Few Of My Favourite Things" ... in a Nutshell!
To sum up, then, these are my Top 10 Favourite Things in the Dolomites:
1) The magic of seasons: the first signs of spring, the summer storms, the clear days of autumn, the snow in winter ...
2) The Alpine flora: the Alpine botanic garden at Monte Faverghera; the "Busa delle Vette" on the Vette Feltrine, at the height of the flowering season.
3) Heights and sights: the ascent to the Lagazuoi – so much less crowded than other options!
4) Treks and Hikes: the circular walk around the Tre Cime di Lavaredo/Drei Zinnen stands out above all others!

5) Towns and villages: Cortina is for me at its best out of season, but there is plenty of atmospheric little hamlets to chose from – one name for all: Sauris.
6) Art: Pieve di Cadore – at any time. Don't forget the beautiful Titian painting in the church – and to spend some time in the Gran Caffé Tiziano! But also the castles of Trentino and South Tyrol are worth a visit.
7) The old vernacular wooden houses in the Zoldo and Agordino area: particularly noteworthy is the village of Fornesighe; then Sappada and Costalta in Comelico, and the "Albergo Diffuso" in Sauris.
8) Food: Speck, frico, and – above all – the 'casunzei': many of these dishes can be found at the Cooperativa di Cortina: the "Harrods of the Dolomites"!
9) Sights: the Conca di Cortina (Cortina basin); the Lakes of Carezza (Karersee), Braies and Misurina.
10) The colours of the Dolomites: the 'enrosadira' – and the Ladin culture at large.
And so, as the songline goes, these are a few of my favourite things... .
The 'Culturonda Dolomythos'
It is also worth adding, in this context, that many interesting places of the Dolomites have been gathered in the so-called 'Culturonda Dolomythos': an initiative devised by the province of Bolzano/Bozen, whose aim is to propose twelve ways (or 'keys') of exploring the culture of South Tyrol, and the Dolomites at large, by thematic areas.
Lastly, if you love sports, do also have a look at the page dedicated to the Dolomite Sports, which focuses specifically on the area of Cadore.
It is my wish and hope that this page has inspired you, and that one day you will come here to discover and enjoy these things for yourself, so that they can become your favourite too – and certainly, I am sure, you would also discover new ones as well!
Return from Top 10 Dolomites to Dolomites
Return from Top 10 Dolomites to Italy-Tours-in-Nature
Copyright © 2019 Italy-Tours-in-Nature