Sauris: A Delightful Mountain Village with Old Wooden Houses.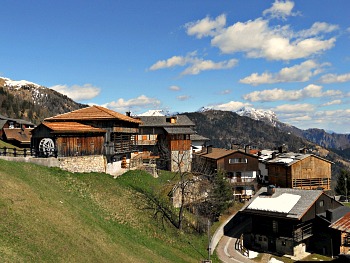 Sauris is a village perched up high in the upper reaches of Friuli, within the sub-region of Carnia. Strictly speaking, it is out of the boundaries of the Dolomiti Friulane Regional Park, while the surrounding mountains belong to the Alpi Carniche (Carnian Alps; see an image of the geographical setting above, with the houses of Sauris di Sopra).
The mountainous region of Carnia covers the westernmost section of the Alps of Friuli. Having said that, all geographical labels seem to fall apart here – for at least two good reasons.
Firstly, this village has a very peculiar history: it was originally founded by German settlers (coming most likely from Lesachtal and Pustertal) in the 13th century – and that is reflected in both the architecture (see picture below) and the local language (the German name of the locality is Zahre).
That, by itself, would already be a strong differentiating aspect, making this community unique in the panorama of the Eastern Alps (bar another exception, Sappada-Plodn in neighbouring Veneto, which shares a similar history).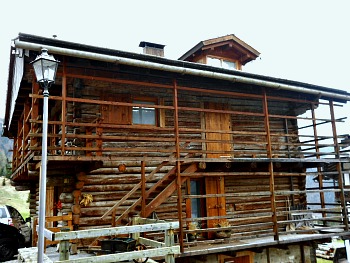 Secondly, the location: Sauris is so physically distant from other villages around it that this relative isolation has definitely helped it to fiercely retain its original character.
And in fact, unlike most other places in the area, you do really have to want to come here: there is no way that you can just happen to "pass by" – but I can assure you: if you do manage to get to Sauris, the rewards you will reap are worth the detour (and even a prolonged stay!).
The village lies at the head of the Lumiei valley – a side valley of the Tagliamento river – and is about half an hour's drive away from the closest town, Ampezzo (nothing to do with Cortina, however: it's another place altogether!).
Therefore, the road to get there is long, winding and steep, as it has to cut through impressive and almost vertical rock walls before reaching the serene, high-altitude open plateau over which the village is laid.
During the summer months there is an additional connection: a link to neighbouring Cadore through a highly panoramic road that twists and turns for a long time in solitary high altitude, crosses the regional boundary at Casera Razzo (at around 1,800 m of altitude), and only then very gradually meanders its way down to the Oltrepiave area, finally touching base at the historic village of Vigo.
This road is normally open April to October only, and closed during the long winter months due to high snow, but opening times may vary as it is so narrow and exposed that it cannot be cleared by snow ploughs.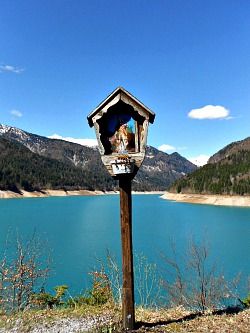 Roughly half way up from Ampezzo (the main road-link throughout the year), you will pass the Lake of Sauris (of which see an image above): it is an artificial basin, but one of the most beautiful of the entire region nonetheless; it was created for hydro-electric purposes (energy production) between 1941 and 1948, right in the middle of World War II – and as a note of interest, it could be added that 300 war prisoners from New Zealand actually helped with the construction of the dam that subsequently generated the lake.
Climbing a bit further, you will encounter the first houses of Sauris di Sotto ('Lower' – as the community is split into two main parts), where the seat of the municipality is, with a fascinating old Roman church dedicated to St.Oswald (Sant'Osvaldo) and, just beside it, a small Historic museum, whose aim is to document the tradition of the procession to Saint Oswald's Sanctuary – a very popular saint in the Alps from the Middle Ages onwards, although he originally came from Britain!
A couple more kilometers uphill, with steep hairpin bends, and you will reach the final destination: Sauris di Sopra ('Upper', portrayed in the winter view below), where the main road terminates (apart from the summer months, when you can drive on to Casera Razzo and Vigo).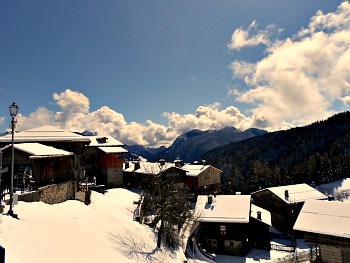 Sauris: an Architectural Gem
If the lower part is definitely interesting, the upper section of the village is the real architectural gem: the relative isolation means that mass tourism could not get here that easily, and therefore there was no interest in building those monstrous hotels that scar – or completely disfigure – so many other Alpine resorts.
So, the architectural texture is incredibly well-preserved – and that is astonishing, when you consider that the old, historical houses are almost entirely built in wood.
Today, in fact, we may easily forget that fire has been the main threat in Alpine communities such as this for a long time – and the reason why so many villages were rebuilt in stone (as in nearby Cadore, for example) is simple. But that did not happen here.
So, in the oldest specimens, you will see some houses dating back all the way to the 17th century, but what is most fascinating here is the clustered character of the built environment – that is, seeing so many old buildings all close together, and in such good state of preservation.
Here you will also see displayed all the traditional architectural techniques of old times – above all the Blockbau, an ancient way of inserting the logs to form the main structure of a house, which goes on to create the traditional Blockhouse (of which see an example below).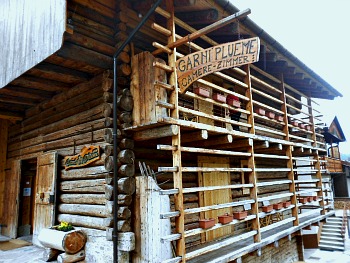 In Sauris di Sopra you can also visit the Ethnographic museum, hosted in one of the reconverted old houses, where you will get the chance to learn all about the old techniques behind this type of building.
Most assuredly, though, the best thing of all is to make the experience of living in one of these houses for yourself: and this is something that – however long you plan to stay – you can actually get the chance to do.
You may remember that the old houses of most villages within the Dolomiti Friulane area have been restored under the "Albergo Diffuso" (the 'Diffused Hotel') initiative, and can now be rented, even for short periods.
This will give you the chance of living for some time in the very heart of the local community – and feeling part of it – without having to renounce any modern day comfort. And in Sauris – of all places – you could say that this initiative has worked out particularly well.
Another important aspect in Sauris is related to its history. Being a tightly-knit community of such defined origins, it has managed to retain close contacts with its roots all too well.
There are a number of traditions (especially religious) that are celebrated throughout the year, as well as a few local products – the most known being probably the "Prosciutto di Sauris" (a type of dry-cured ham), which enjoys a label of protection (I.G.P. is the Italian acronym to look for, that stands for "Protected Geographic Indication" – implying that this particular product can only be produced here), but there is also a local brand of beer ('Zahrebeer').
Wood carving, as can be imagined, is another traditional activity, and there still is a renowned production of wooden masks.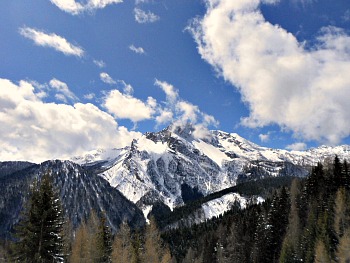 Endless Possibilities for Hikes and Walks in Nature
Of course, being situated at the head of a side valley, the possibilities for hikes, walks and mountain climbs from Sauris are endless, giving you the further possibility to connect in altitude either in the direction of the Dolomiti Pesarine or towards Cadore.
Sauris is dominated more closely by the Dolomitic peak of Monte Bivera (2,474 m; pictured above), of a characteristic triangular shape, but other mountains – lower in altitude and of a more rounded outlook – encircle its basin all around.
Among some of the easiest examples of excursions are a possible roundtrip from Sauris di Sopra to Sauris di Sotto across the lower fields (through the localities Velt and Hinter s'Eiche) and then back across the higher fields and woods (through the localities Pront-Malais and Plozzer). This latter is a mule track that follows the slopes above the villages in altitude, partly through woods, with wide views over the lake.
Another easy walk is from Sauris di Sopra towards Rucke, a splendid panoramic viewpoint above the Lake of Sauris; from there one can descend to the lake with an easy but very steep path (a roundtrip is also possible, with a return along the lake shores, and then up through Sauris di Sotto).
As for the high-altitude treks, many can in fact be enjoyed on and from the high plateau of Casera Razzo mentioned before, which can also be accessed via paths and mule tracks (as well as by car, when the road is open) from Sauris di Sopra, through woodlands first and then by crossing the upland meadows of Casera Mediana, eventually reaching the Sella di Razzo pass (1,739 m; the picture below portrays some of the Dolomite peaks in that area).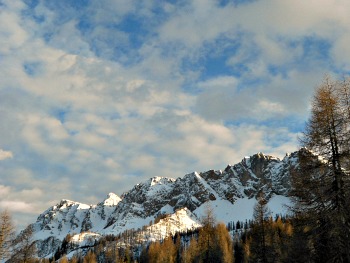 A short distance away, Rifugio Tenente Fabbro (1,783 m) – at the western edge of the Razzo plateau – can be used as base for demanding ascents towards Monte Tiarfin (2,413 m) and the Brentoni (2,548 m) – Pupera di Valgrande (2,513 m) group, or for a relatively easy – but long – descent towards Comelico through the Forcella Lavardet pass and the wooded val Frison.
The high pastures of Casera Razzo have been historically used for summer grazing for a long time, and are still renowned for their cheese production, also because of the rich variety of herb species present on the plateau and in its meadows.
In fact, in the area around Sauris about 700 plant species have been discovered and listed so far, but the studies are incomplete, so there is still plenty of room for further investigation. Particularly fascinating – flowering profusely even in the fields around the villages – is the abundance of Gentian blossoms in spring (just like those portrayed in the image below).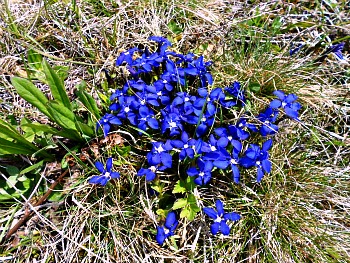 The best area in which to walk and look for beautiful flowers are the mountain slopes along the so called 'Via delle Malghe'. These are a series of paths and trails that connect in altitude a number of dairy-pens (called 'malghe' in the local language), some of them very ancient (dating as far back as the 15th century) and still in working use.
One of the easiest and more rewarding hikes that can be enjoyed right from the centre of Sauris di Sopra is the ascent to Monte Mörganleite (1,975 m).
Marked with a cross, this rounded mountain top commands a 360 degrees uninterrupted view on the surrounding peaks of the Dolomites on one side, while opening up on the distant sights towards the Val Canale and Canale del Ferro (belonging to the Julian Alps) on the other.
From there, it is possible to connect to the 'Via delle Malghe' in several directions: either towards Malga Festons (1,833 m) and Malga Malins (1,672 m) and then on to Malga Vinadia Grande (1,734 m), with splendid views over the Dolomiti Pesarine and different return options, or towards the Val Pesarina, thus completing a wide circular trip through Forcella Pieltinis (1,881 m).
Another rewarding option is to take towards Casera Rioda (1,784 m), which will allow for an interesting roundtrip through Forcella Rioda (1,946 m; beware of some exposed tracts), to then return with a highly panoramic trail below Monte Rioda (2,046 m), Monte Oberkofel (2,034 m) and Monte Festons (1,934 m; this section is recommended to expert walkers only).
A third choice is to take immediately in the other direction towards Monte Pieltinis (2,027 m) and then down to Malga Pieltinis (1,739 m); from there, this option would open up to endless possibilities, allowing one to continue towards Malga Gerona (1,622 m) and Novarzutta (1,625 m; which is one of the oldest working dairy-pens in the area), with a possible long return to Lateis through Malga Palazzo (1,532 m).
If you're up for an even longer option, you can continue further from Malga Novarzutta in the direction of Malga Losa (1,765 m), which during the summer months – as well as working as a dairy-pen – functions also as mountain refuge where to get accommodation (as in fact it happens, during summertime, for some of the other 'malghe' too). From Malga Losa, a long haul can even allow a descent to Mione, in the Canale di Gorto.
Alteratively, if you aim for a shorter descent to Sauris di Sotto, the return route through Rifugio Eimblat da Ribn (1,441 m)  – a typical wooden mountain hut that also offers accommodation and restaurant – will provide a welcome mid-way resting point in this quiet and panoramic spot.
So, all in all, one can affirm without the shadow of a doubt that Sauris is a delightful place, which has never severed the bond with its old Germanic past – and you can read more on its peculiar history, if you wish.
In any case, Sauris has something on offer for everybody: traditional architecture, typical products, and endless possibilities for spending time in nature, making it perhaps the most compelling destination in Carnia.
It certainly is my favourite village in the region! (In the closing image below, a view of the extensive conifer woodlands that envelop the village, with the ancient church of Saint Lawrence –  in Sauris di Sopra – to one side).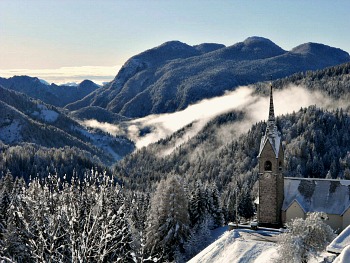 Return from Sauris to Italy-Tours-in-Nature
Copyright © 2010 Italy-Tours-in-Nature